Get help for addictions, mental health problems, and emotional issues, at our rehab clinic in Watton.
Verve Healthcare in Watton
Verve Healthcare is a modern, stylish detox and rehabilitation facility situated in the market town of Watton, a picturesque part of the Breckland district of Norfolk.  Watton is located just 24 miles from the City of Norwich and 15 miles from the market town of Thetford with road links to the A11.
The property boasts 19 beautifully decorated en-suite bedrooms each with television, tea and coffee making facilities and access to high speed Wi-Fi. The beautifully decorated rooms are equipped to meet both comfort and entertainment needs with daily housekeeping and laundry facilities. The communal areas offer a range of therapy rooms and relaxation spaces, including a television room where clients can unwind.  There is also a fully equipped Gym on site allowing clients to work out up to 5 times per week.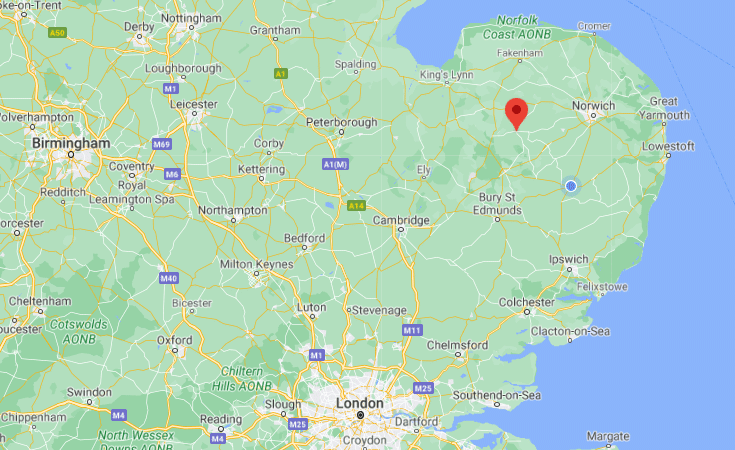 Ready to Start?
Click here to start your consultation now
The Dining Room is situated in the conservatory and provides a delicious selection of well-balanced meals every day.  Our Chef team work tirelessly to provide every comfort and cater for individual specialist requirements if necessary.  From a full English for breakfast to homemade soup at lunch and ending with a 2-course meal in the evenings, no one will go hungry.  We offer special theme nights at the weekends and of course have a delicious roast cooking on Sundays.
Outside, the property boasts its own private garden and outdoor seating area with a courtyard.  There is plenty of private parking on site for when loved one would like to visit and we have on-site 24 hour security for peace of mind.
Verve Healthcare has created a relaxing and welcoming environment including one-to-one counselling rooms as well as 2 group therapy rooms.   Our highly trained staff have brought their collective knowledge and experiences together enabling us to offer treatments that are flexible and adaptable to individual needs, giving everyone the best possible chance of recovery.
Everything needed to fully detox and rehabilitate is offered under the one roof.  Our clinical and psychological team is fully integrated ensuring clients receive the best treatment and care possible for an addiction or condition.  We have worked hard to bring an amazing clinic ensuring that everyone has the opportunity to benefit from Verve Healthcare's recovery experience.  Members of staff are always available, 24 hours a day ensuring the safety and well being of the clients.
We care at Verve Healthcare, once a patient has received treatment they will be one of our alumni and therefore can reach out for ongoing telephone support for up to 12 months post discharge.  This continued support can be crucial to a patient's recovery.  We also offer support to family and friends so they can assist in maintaining recovery, alongside equipping the patient for life after residential treatment.
Get Confidential Help Now
Call us for any questions
We can offer:
Mental health rehab
Drug addiction detox and rehab
Rehabilitation from alcohol abuse and dependency
Treatment for behavioural addictions
Emotional disorder therapy and psychotherapy


Treatments, Therapies & Activities – We will have access to the following:
EMDR (Eye Movement Desensitization Reprocessing)
Art Therapy
Cognitive Behavioural Therapy (CBT)
Dialectical Behavioural Therapy (DBT)
Holistic Therapy & Body Maps
Trauma Therapy
Anxiety Workshop
Relapse Prevention
Group Therapy
Meditation & Mindfulness
Yoga
Goals Groups
Life Story
Client-Led Groups
Stress Management
Motivational Interviewing
Bereavement Counselling
Fellowship Meetings
Self-Esteem Workshops
Auricular Acupuncture
Key working and Psychodynamic Counselling